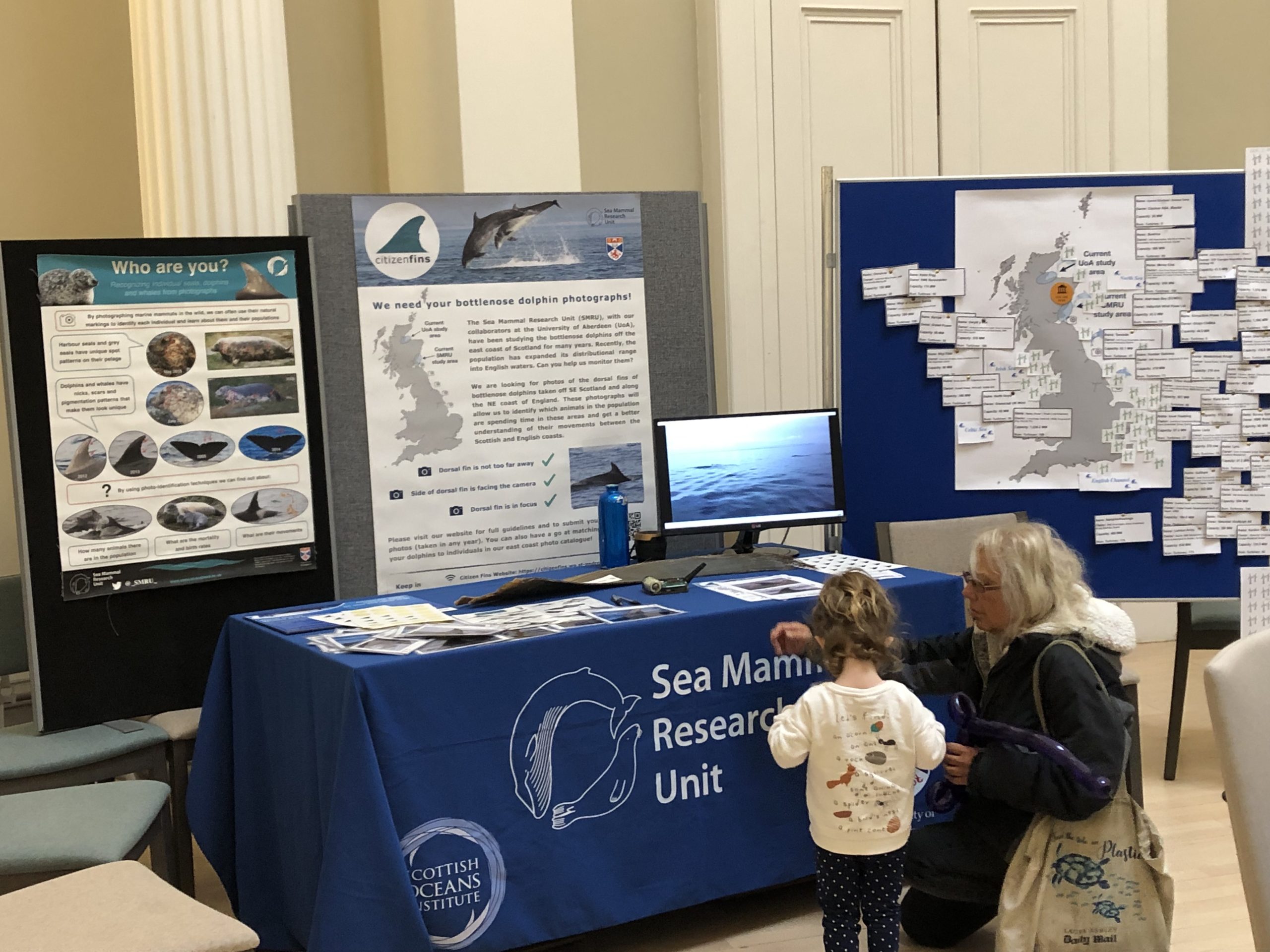 UK STEM Ltd and the Sea Mammal Research Unit (SMRU, University of St Andrews) joined forces with the University of Aberdeen Public Engagement with Research Unit (PERU) to support the 2023 Explorathon science festival in Aberdeen on Saturday 30th September. Chloe Cargill (University of Aberdeen, University of St Andrews and UK STEM Ltd), Grant Ellis (SMRU) and Auriel Sumner-Hempel (University of Aberdeen) organised an interdisciplinary engagement room to run alongside the 'Hall of Mayhem' research showcase in the Aberdeen Music Hall.
For the team, the aim of the day was to create an engagement space at the interface between the offshore wind industry and marine environmental science research. To communicate this, we created a poster display mapping the SMRU and University of Aberdeen survey areas for bottlenose dolphins and the SMRU Citizen Fins project, together with all of the fully commissioned offshore windfarm developments in UK waters. Green turbine icons were used to represent fully commissioned developments and grey turbine icons represented developments in planning, construction etc. Data were sourced from the open-access TGS New Energy Solutions interactive map at www.4coffshore.com. Supporting information was also displayed for each development, including the site name, the owner/s, the number of turbines and the total capacity in megawatts. (A note to anyone planning a similar poster display: at the time of writing there were 36 fully commissioned developments to make, print, cut out and pin up, and over 70 ventures are on the horizon!) 
The output of these efforts was a highly visual, purposely cluttered backdrop for a SMRU stand displaying GPS seal tags and a screen showing SMRU video footage of bottlenose dolphins in inshore waters. The aim of the SMRU stand was to engage members of the community with the methods and benefits of studying marine mammal populations in the context of marine space use. Participants learned how to identify and match individual bottlenose dolphins. The team also received 16 candidate names for an unnamed dolphin in the SMRU and University of Aberdeen bottlenose dolphin catalogue, through the always popular 'name a dolphin' competition.
Representing the offshore wind industry were two hands-on activities: Supergrid and Crazy Turbines. Supergrid is an educational package designed to demonstrate the value of skills including engineering, maths, physics and creativity within the renewables industry. Leaners (seven years of age and above) are provided with the core components of a wind turbine nacelle, various building materials (k'nex, cardboard etc) and a desk fan. The challenge is to build the turbine support tower and blades, and to generate wind power. The power output, measured in milliwatts, is displayed in real-time (via a bluetooth receiver and laptop) on a monitor screen – this can be represented graphically as either a gauge or as a line plot over time. The Explorathon room was set-up with four Supergrid stations, each representing one country bordering the North Sea, and with a leader board going throughout the day. Success was varied – outputs ranged from 2 mW to 27 mW, yet by mid-afternoon there was a clear Supergrid star: Djarir, representing Sweden, experimented with several blade shapes and angles and altered the resistance of their drivetrain to generate a winning output of 45 mW! For younger minds, there was a Crazy Turbine craft station for visitors to build their own battery-powered, cardboard-and-motor wind turbines to take home. 
Because both marine mammals and the expansion of the offshore wind industry have a very tangible presence within this community, the team felt that this style of outreach and engagement was particularly important for the Aberdeen Explorathon. Bottlenose dolphins have an active presence along the Aberdeen coastline, particularly at Aberdeen Harbour and around Girdle Ness Lighthouse. Furthermore, the Aberdeen Bay (EOWDC) and Kincardine (Phase 1 and Phase 2) offshore windfarms (and associated coastal infrastructure and support vessels) are clearly visible from the Aberdeen beach and from the road or trainline to the south. We found that an interdisciplinary, integrative approach to outreach and engagement created a space for conversations which traversed themes from the offshore renewables industry, environmental science research, and marine policy. 
The event operated at between 75% and 100% capacity throughout the course of the day: the team tallied approx. 100 people entering the room in total. Active engagement (i.e., a meaningful, two-way conversation between a visitor and a member of the team, or more than five minutes spent engaging with the hands-on activities) was counted as follows: Supergrid – 50 people, Crazy Turbines – 65 people, SMRU stand – 35 people. These figures demonstrate that a number of people engaged in multiple activities. Participants were of all ages: from about three years old through to seniors, with most engagement opportunities involving young people aged between five and eleven years and their parents or carers. The team would like to give a huge shout out to the Explorathon organisers and PERU, who enabled this event by providing funding from the UKRI Horizon Europe Guarantee Fund and the University of Aberdeen, and to UK STEM Ltd, SMRU, Redfern Electronics, Mindsets UK and OASES NorthEast for providing activity and engagement kit, software and additional in-kind support.